How might a school transform its schedule to improve student engagement? This is the problem a team of Middle School students from Havergal College tackled as part of Future Prize 2023. At this CIS Ontario event, Future Design School engaged 26 teams of independent school students as they designed solutions to important challenges they identified in their own communities, before pitching these ideas to a panel of judges and their peers.
The judges had a difficult time picking a winner, but in the end, the Havergal College team's impeccable understanding of their users and the depth of the problem, as well as the strength of their proposed solution to revamp school start times to increase productivity, lifted them to victory.
Future Prize is an exciting example of how to engage students in problem driven inquiry. Leveraging the design thinking process, students chose problems they were passionate about solving, and tapped into their creativity to design innovative solutions. Here are five key takeaways from this event, highlighting what passionate problems look like, how being in love with the problem is a key aspect for developing a solution, being empathetic, ideating in a collaborative way and applying constructive feedback all came together in an action packed day.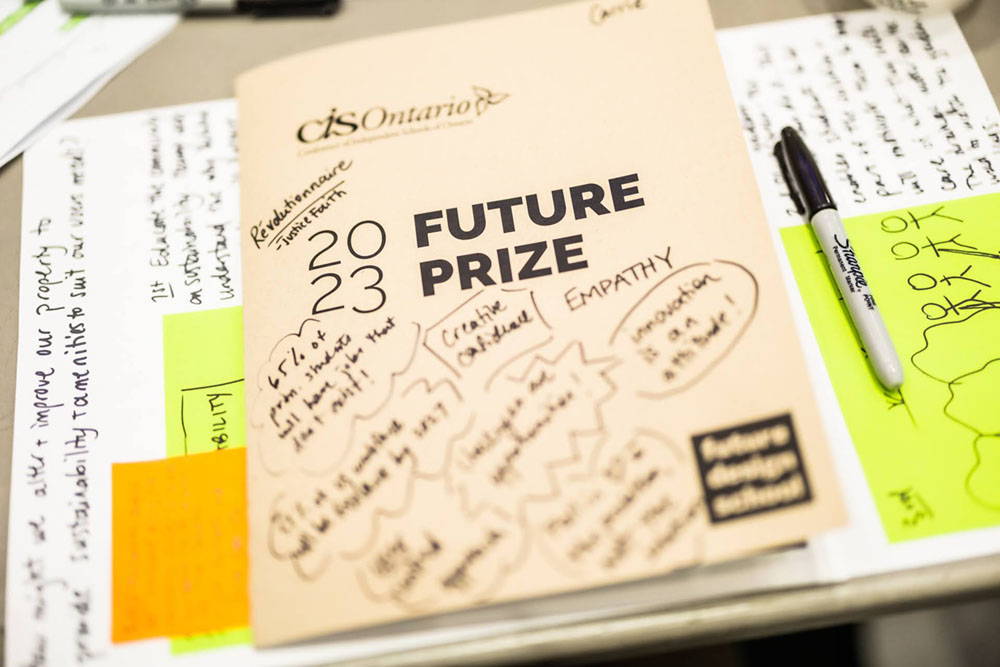 Image via Christian Peterson / ED_PARA Education Communications
Future Prize empowers students to be natural problem solvers with flexible, adaptable skill sets and the creative confidence to tackle real world challenges. Students are engaged with work that they are passionate about; the key is to connect students with the challenge they want to explore.
Team challenges from each school varied: no challenge was too big or too small to solve. Some examples included addressing the increased flow of traffic into their schools, to improving wellness in their schools, to how to make local parks safer for everyone. Each group was passionate about learning from one another to better their ideas together.
FALL IN LOVE WITH THE PROBLEM - NOT THE SOLUTION
Encouraging students to "fall in love with the problem" helps them to keep the needs of their user at the heart of their work, while creating confidence to refine their solution. Framing a problem as a 'How Might We?' sets a proactive tone for the entire challenge, while enabling exploration around what needs to be solved. It also encourages dedication to the problem, helps maintain momentum throughout the challenge, and most importantly, encourages open mindedness to a wide range of solutions. Through this process, students feel empowered to problem solve and begin to see challenges as opportunities.
This concept was evident throughout the day, as students were taking feedback from their group members, other teams, and even the judges themselves. For example, during an initial round of pitch presentations, each group received feedback from the judges that highlighted some of the great things they were already doing, but also pushed them to think further. Finalist groups then had an opportunity to demonstrate the importance of being flexible and adaptable to feedback when they advanced to a final round of pitches to determine the overall Future Prize winner.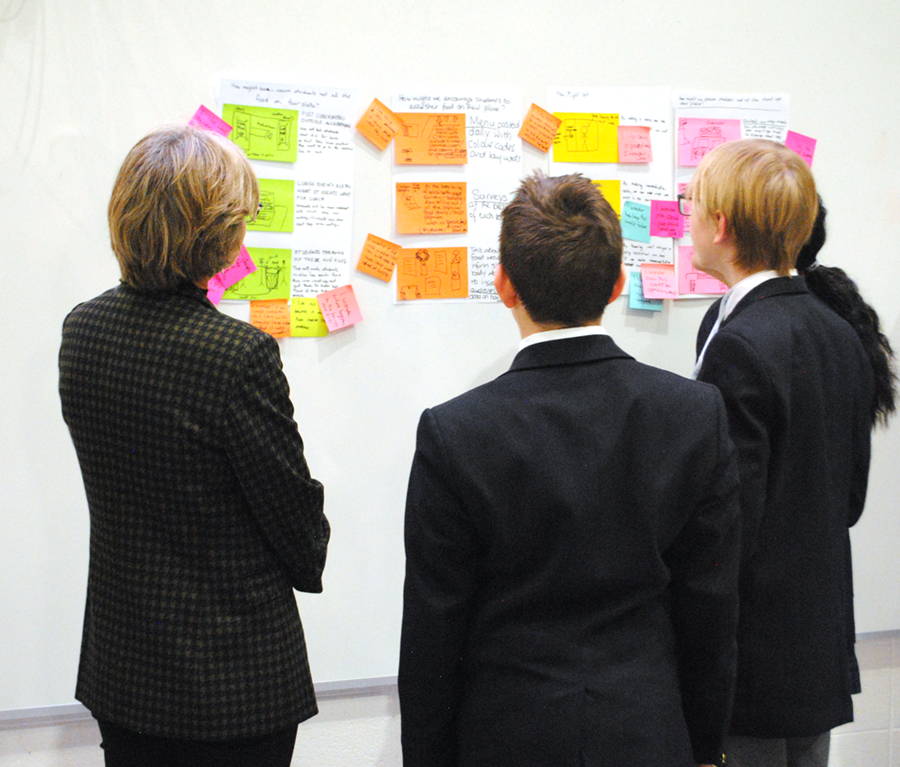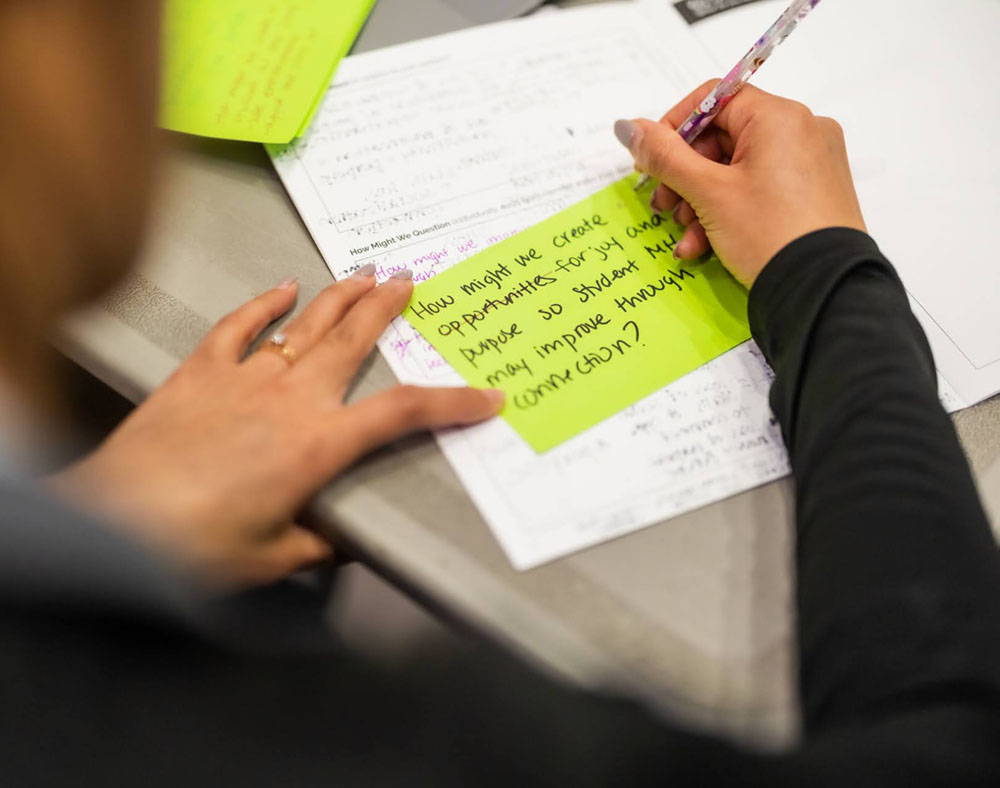 Image via Christian Peterson / ED_PARA Education Communications
Empathy is the ability to understand another's feelings. In order for students to solve problems and design solutions, they need to develop a strong understanding of who they are designing for, and what their needs are.
Even though many Future Prize teams weren't experiencing their chosen challenges firsthand, putting themselves in their users' shoes developed deep engagement with their users' needs. To develop empathy, participants conducted research, then validated their findings to better recognize the problem and deeply understand the motivations, fears, frustrations, and unique circumstances of their users.
IDEATE RAPIDLY & INDIVIDUALLY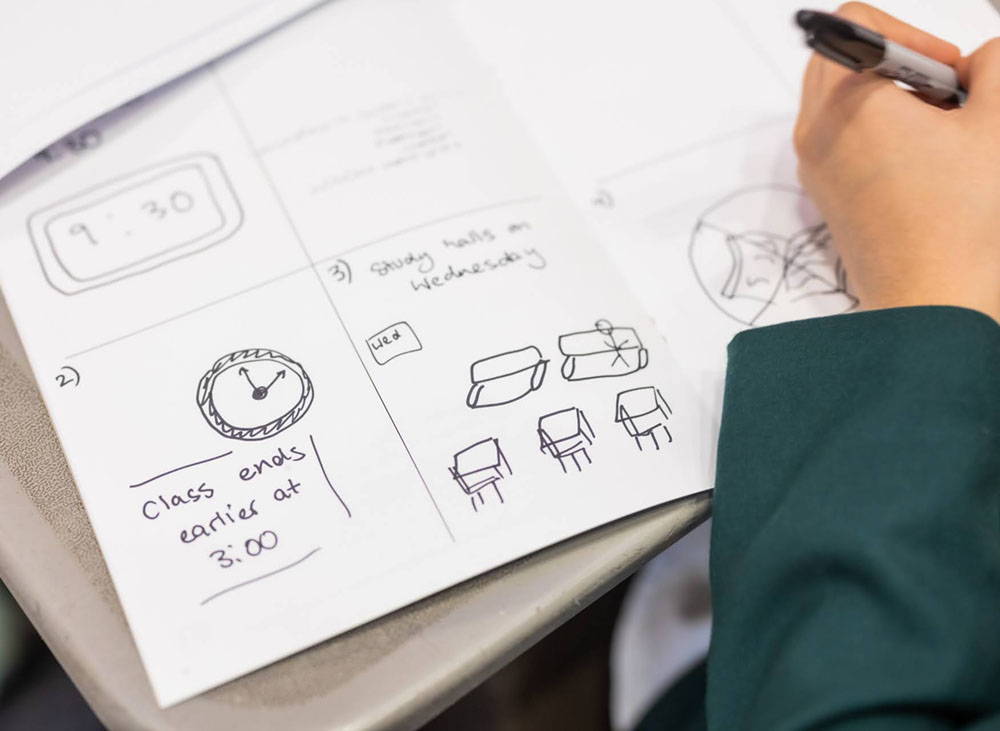 Image via Christian Peterson / ED_PARA Education Communications
Using rapid brainstorming and ideation techniques allows students to get as many ideas down on paper as possible without overthinking. Ideating individually allows students to generate a multitude of ideas of their own before working together. Following a rapid brainstorming activity, students begin to build out their ideas in a more cohesive way.

To begin the ideation phase at Future Prize, participants rapidly brainstormed eight ideas to address their solution by folding a sheet of paper into 8 sections, and using 40 seconds per square to capture their ideas using a combination of doodles and words. Students who found themselves stumped were prompted to take a previous sketch, iterate on it, or combine two different ideas together. This method allows students to generate multiple solutions using divergent thinking. During this part of the day, it was astonishing to witness the absolute silence in the room. Students were focused on ideating and working through making the next idea even better.
SOLICIT CONSTRUCTIVE FEEDBACK
During the event, students were able to gather feedback from three different sources After refining their initial ideation results, sharing with each other in their groups, they were paired with other teams to share. Then, our Future Prize judges (who shared with us how inspired they were by the students' enthusiasm and grit to solve their challenges) provided additional feedback.
Constructive feedback enables students to think deeper and solve surface level obstacles they may face. Providing multiple cycles of feedback encourages students to stay focused on their problem, deeply understand their user, and develop strong solutions.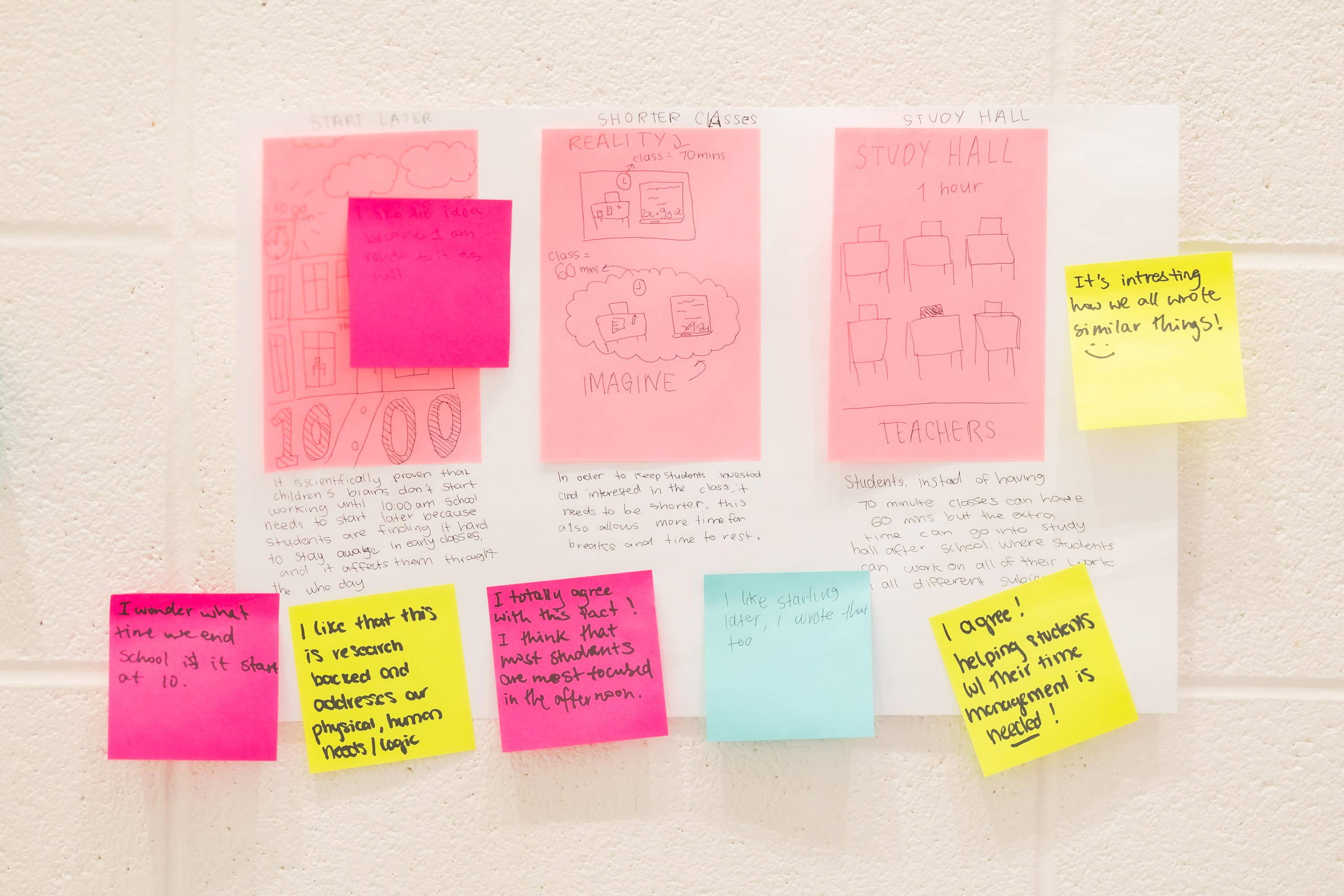 Image via Christian Peterson / ED_PARA Education Communications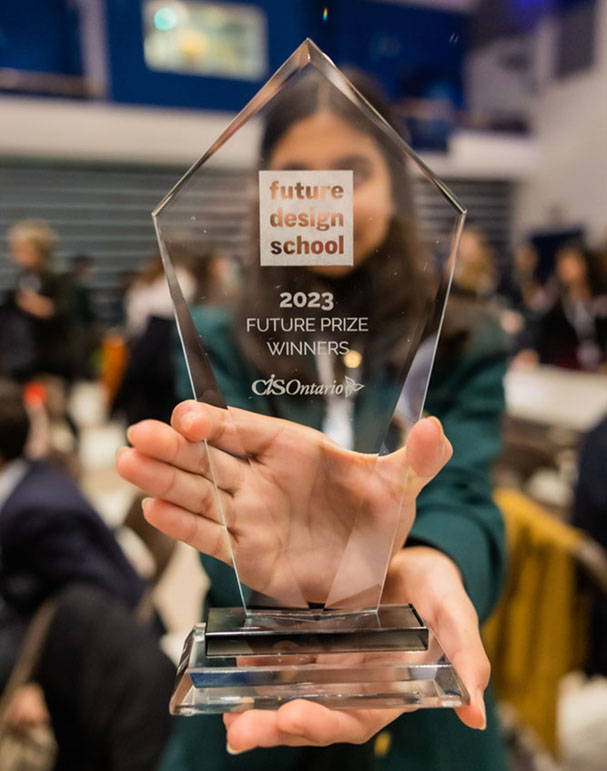 Image via Christian Peterson / ED_PARA Education Communications
Future Prize 2023 was a day filled with engaged students, creative thinking, and innovative solutions. "This opportunity inspires our students to think outside the box," said one participating teacher. "Future Prize helps students feel that they can actually make a difference in their communities, and gives them experience for solving problems now — and not just in the future."
It's exciting to see students and educators get excited about the future — ready to tackle any challenges that come their way. The event's structured approach, focused on developing deep and authentic empathy, problem solving, and collaboration skills, was key to its success — and the results speak for themselves. "I used to think that no one would listen to ideas from students or young people," said one student. "Now I think that students and this generation can do great things with their ideas."
Future Design School provides a wide range of services to support the whole school strategy and drive future ready skill development. We enable schools through professional development, comprehensive curriculum and strategic support. We are passionate about preparing students for the future and equipping them with the skills they need to thrive in a rapidly changing world. Contact
team@futuredesignschool.com
to continue the conversation.
About Us
Future Design School supports school leaders through strategic consulting and sustained professional development programs. Our approaches, tools and resources empower teachers and staff to embed a holistic, personalized approach, where students build key skills while rediscovering their passion for learning.