This fall, Rundle College Society in Calgary, Alberta will open Rundle Studio — an independent, online school for students with learning disabilities and/or ADHD. Developed with strategic consulting support from Future Design School, Rundle Studio will build on the foundations of its in-person sister school, Rundle Academy, by providing a personalized approach designed to deeply engage students through a dynamic, interactive learning experience.
The school will launch with a small cohort of Grade 7–8 students, and expand each year through the high school grades. Unlike a brick-and-mortar school, though, Rundle Studio students can attend from anywhere in the province. "There are currently many students in Alberta, and across North America, who are falling through the cracks — who have a diagnosed learning disability and aren't getting the services that they need," says Rundle College Society Head of School Jason Rogers. And what those students need, he adds, is a full and engaging school experience — one that "creates strong connections between students and teachers, and allows students to feel that they're seen, known, and valued, and that they are capable learners."
"Future Design School was a tremendous support when we were working from concept to practice in this program, and helped flesh out many of the ideas which have now become Rundle Studio"
This new school is the latest in a string of unique innovations at Rundle, and the Future Design School team provided strategic direction and facilitated ideation sessions that were instrumental in bringing it to life. "Future Design School was a tremendous support when we were working from concept to practice in this program, and helped flesh out many of the ideas which have now become Rundle Studio," Rogers says. "They helped us understand what's really important in an online environment. I've really felt supported by Future Design School through the whole process."
The result is an immersive program that extends beyond the online classroom: Rundle Studio students will interact outside of class in virtual social environments, and take part in extracurriculars including esports teams. Make no mistake; this is no mere online learning platform. This is a complete school, delivered virtually — and the benefits of this approach go well beyond geographic reach. "In our experience with online learning during lockdown and COVID, we continually surveyed our student and parent population," says Rogers. "The interesting part was that 25% of students and parents liked it more, and the students did better. It's a different way of focusing, a different way of engaging and interacting with the teacher — a different way of being. Thanks to its adaptability for their own learning styles, we found that some students started to excel in an online environment. You've got your own space, your own comfort, your own pace of learning."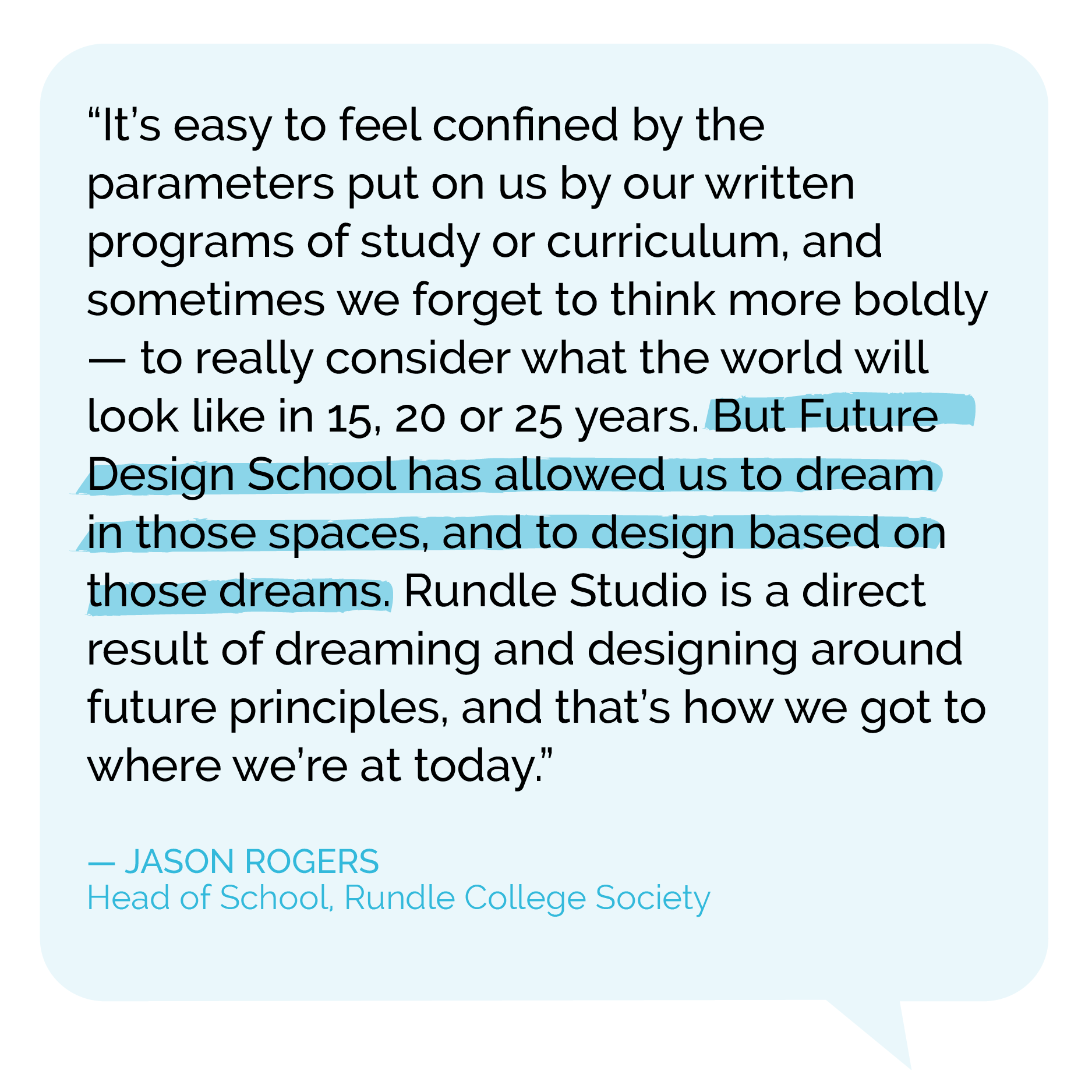 To achieve this, Rundle Studio students will learn both from an expert lead teacher, who delivers full-class lessons, and a teacher advisor who works with small groups of students to dig deeply into learning, and provide personalized support. "Coupling that expert teacher with people who are quick to connect, and quick to build relationships, is really where the magic happens in a distance delivery format for kids with learning disabilities," says Rogers. Plus, students will connect virtually to exciting guest speakers — this school year, Rundle students met online with the likes Canadian Supreme Court Justice Sheilah Martin, Shopify COO Toby Shannan, and Calgary Flames Captain Mark Giordano — and dig into a wide range of virtual experiential opportunities.
Rundle Studio was built with precisely those students in mind, and so far, the response has been inspiring. Rogers reports that parents and students who have applied for admission to the new school express relief that a program like this actually exists, and excitement about its unique, future ready approach. "Yes, it's different — but that's exactly the point, and the new normal emerging in the wake of the pandemic presents a unique opportunity to bring it to life. "If this is not the time to disrupt education, there won't be a time," says Rogers. "We owe it to ourselves, we owe it to our students, we owe it to our teachers, we owe it to our communities, we owe it to society to really explore what education can look like in the future. I think we have to get in the sandbox. We have to take chances. We have to be bold. We have to take this opportunity as it's been presented to us, in the face of crisis, and see what good can come from it."
For Rogers and the Rundle Studio team, it all comes down to providing the best possible experience for learners with exceptionalities. "I care about kids with learning disabilities, deeply," he says. "I care about education deeply, and I think this is a time when we can really leverage what we're learning to benefit both kids with learning disabilities and education. And that's what Rundle Studio is."
Future Design School provides vital support to expansion projects at schools across North America. Learn more about how we can uncover new opportunities and help engage all members of your learning community — email us at team@futuredesignschool.com today.