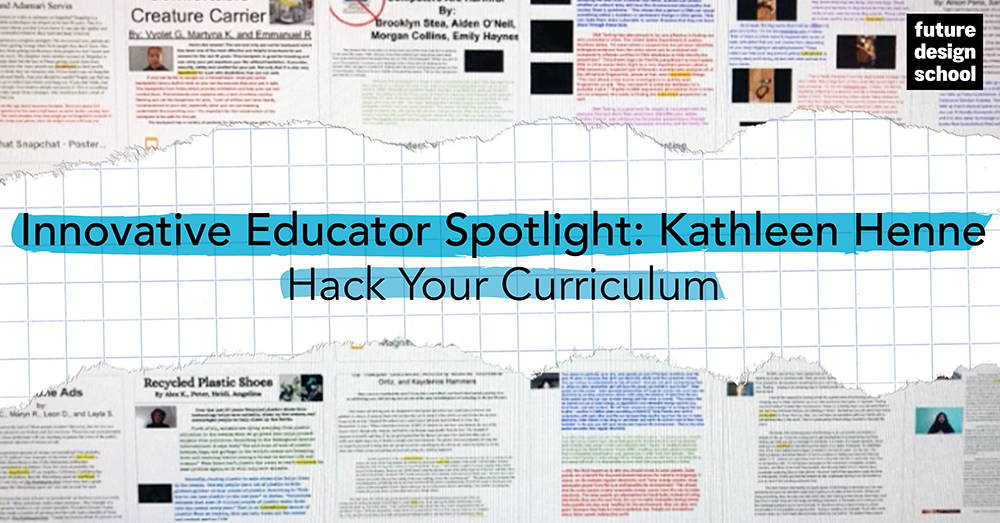 Earlier this year, Future Design School joined the wonderful educators at Roselle Middle School for our immersive "Hack Your Curriculum" professional development program.
Hack Your Curriculum empowers educators to harness human-centred design methods to build creative, challenge-focused learning and authentic personalized inquiry in their classrooms. The professional development series provides tools and methods for creative problem solving as teachers approach their existing curriculum from a learner-centered perspective, and build interdisciplinary connections for inquiry-based learning.
We thank Sixth Grade Language Arts Teacher, Kathleen Henne, for taking the time to document her experience with us! Kathleen captured the great curriculum plan she created through our professional development and documented the implementation in her classroom; capturing student reflections and all of their work throughout the project! Check out the video below!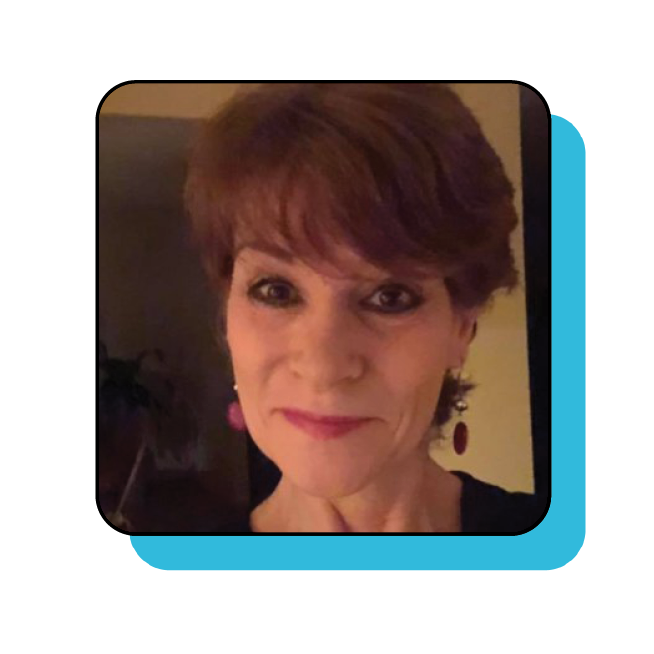 Kathleen Henne has taught sixth and seventh grade English/Language Arts and Social Sciences at Roselle Middle School, in Roselle, Illinois, for 18 years. She earned her Masters in Education and Administration endorsement from DePaul University and a B.A. in Mass Communications from Saint Xavier University. Kathleen truly enjoys the challenge of investigating and developing new strategies that engage students in creative learning opportunities!

Phase One: Setting The Stage
As a seasoned educator, the argumentative essay is a cornerstone of Henne's english language arts class. Leveraging tools and methods from our professional development, Mrs. Henne decided that this year she would try something different with her students. Unlike previous years, where students would work individually to write a compelling argumentative essay, students would work in groups to create an interactive poster that conveys their point of view.

Presented with the question, "what is/was the most helpful or harmful technologies of the past 50 years?" Students were tasked with selecting an aspect of technology over the past 50 years and collaboratively deciding which side of the argument they would argue.
Students worked together to research and determine their point of view and then completed an individual opinion survey. Henne challenged students to extend their point of view on their topic through research, essay writing, and collaboration leading up to their poster design.

Little did Henne's class realize they were about to be immersed in the most relevant application of the benefits and harms of technology, amid COVID-19 school closures.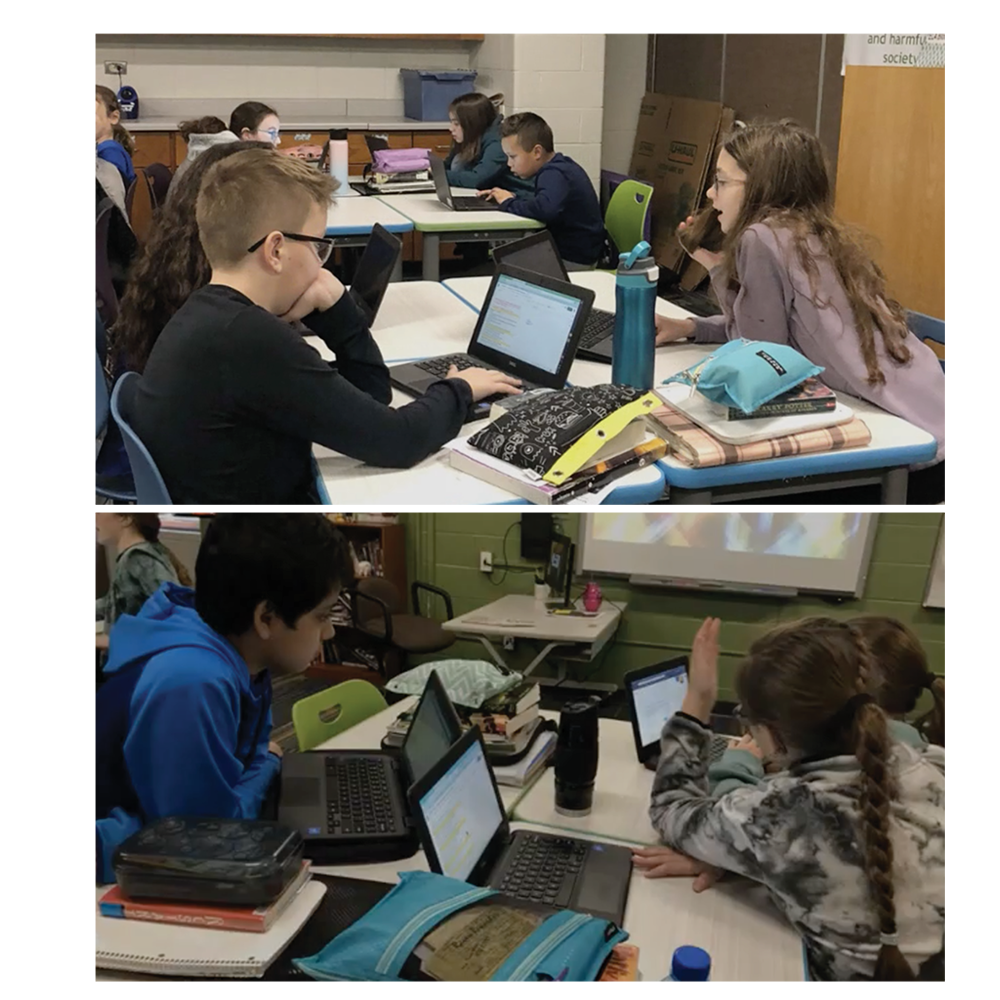 As Henne's classroom became virtual, the posters transitioned fully online, with phase 2 of the project adjusted to accommodate all students working remotely. These modifications were made leveraging Google Classroom, where students were given step-by-step written and video instruction, with additional support delivered via email and Google Hangouts.

The new project? Virtual interactive posters! Eager to maintain the momentum established in the classroom, Henne was intent on not introducing new platforms or tools for students learning, drawing only on already familiar tools such as Google classroom and slides.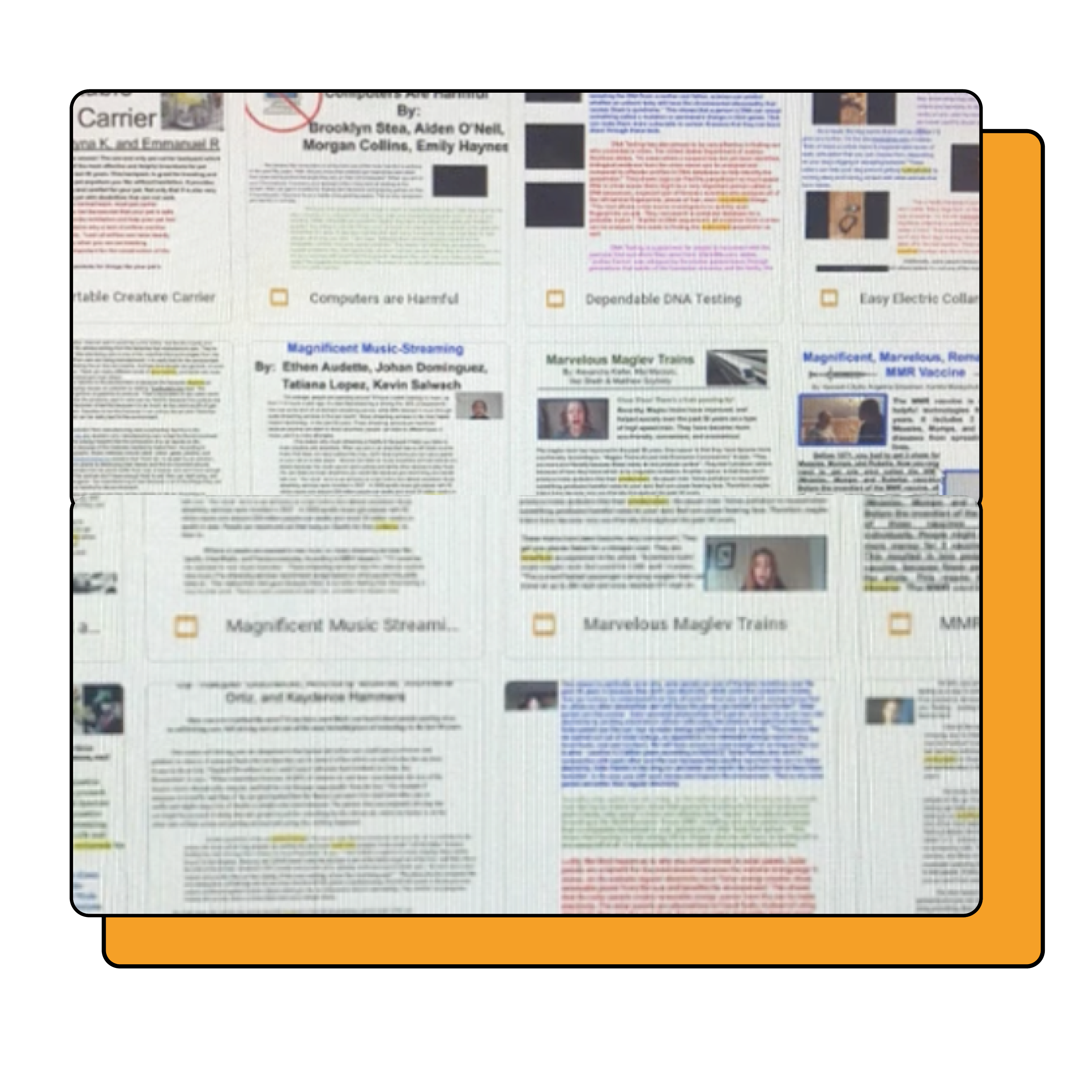 The project was originally conceived to apply QR codes on the student's physical posters, allowing classmates to scan and view vignetted recordings of their argumentative essay while reading and examining the content on their posters.

In lieu of a physical poster, Henne modified Google Slides to run vertically in poster size dimensions, linking the recorded videos in the virtual poster document
Upon project completion, students submitted their final product to a google drive that contained all their posters to create a "virtual hallway", producing a total of 18 interactive posters, containing video recordings of students giving highlights of their argumentative essays. Students were able to view their classmates' posters, and think deeply and critically about their perspective on the topics at hand.

Phase 3: Project Wrap Up and Reflections
"I'm a big believer in teaching students proper methods of research and communicating their research. You have the information - now what are you going to do with it?" says Henne.
After viewing the interactive posters in the virtual hallway, students responded to two questions
1. After interacting with at least 3 posters, did your opinion on one or more topics change?
2. What wisdom have you gained from this project - not about technology topics - but as you as a learner, worker, listener, leader, partner, student? What will you do now or in the future with this wisdom?
"Kids deserve an opportunity to reflect on both good and bad - and the information available to them", says Henne.
Most notably, many student reflections centred around creativity, critical thinking, collaboration and communication. As students shifted to an online work environment, they were required to exercise adaptability strengthening their ability to work collaboratively as a group online.
Student Reflection Samples: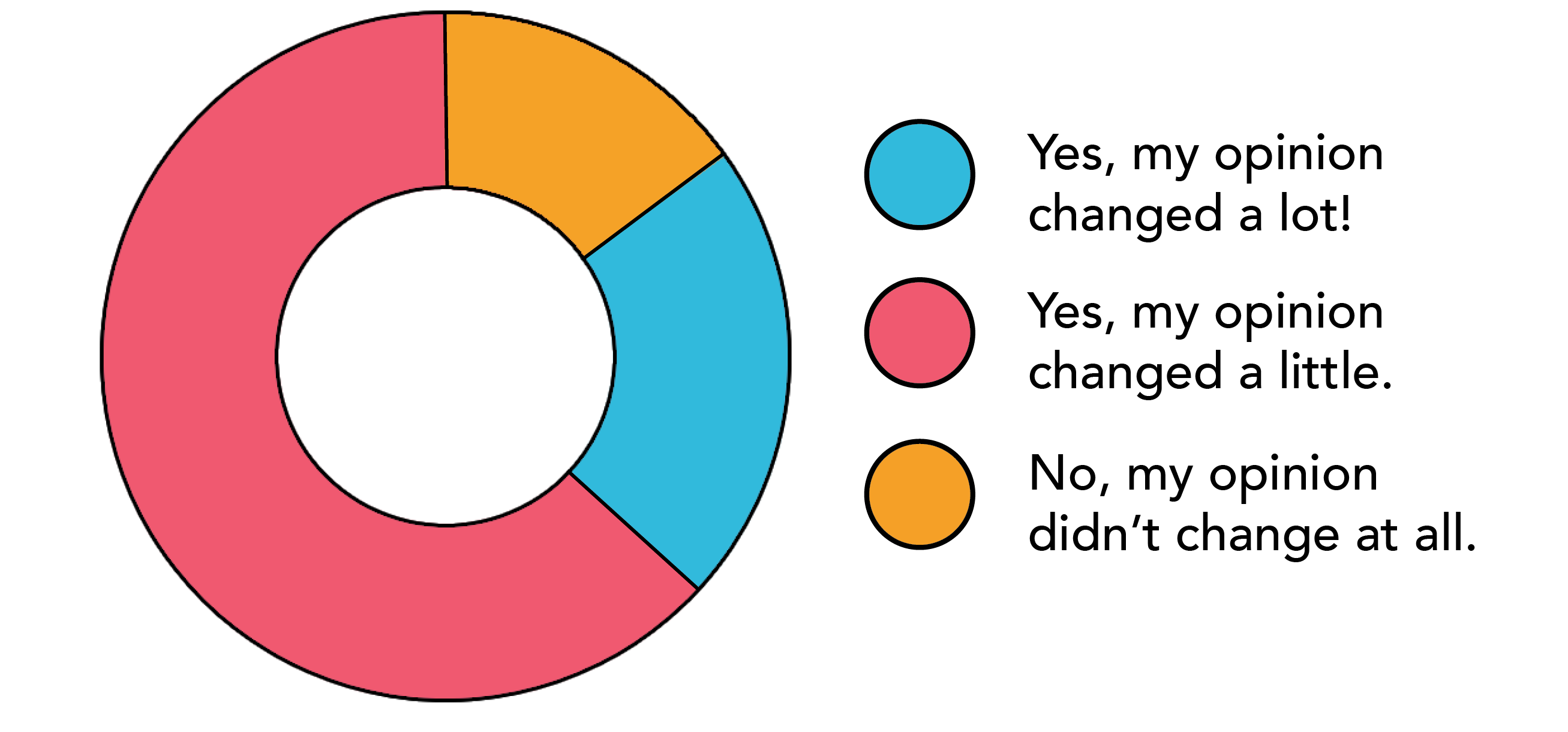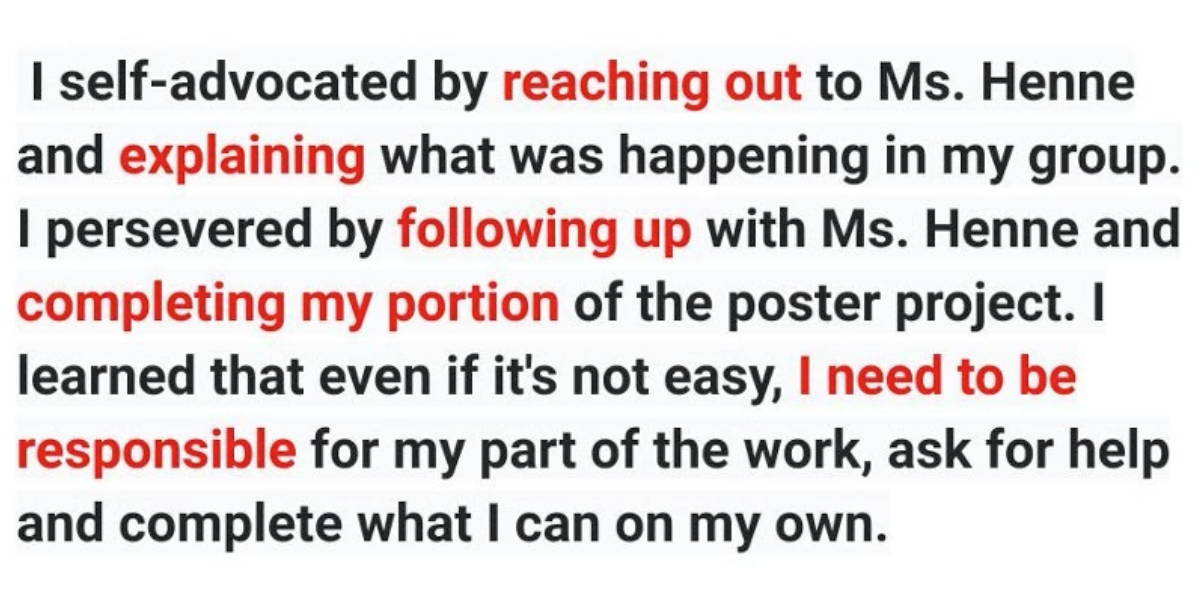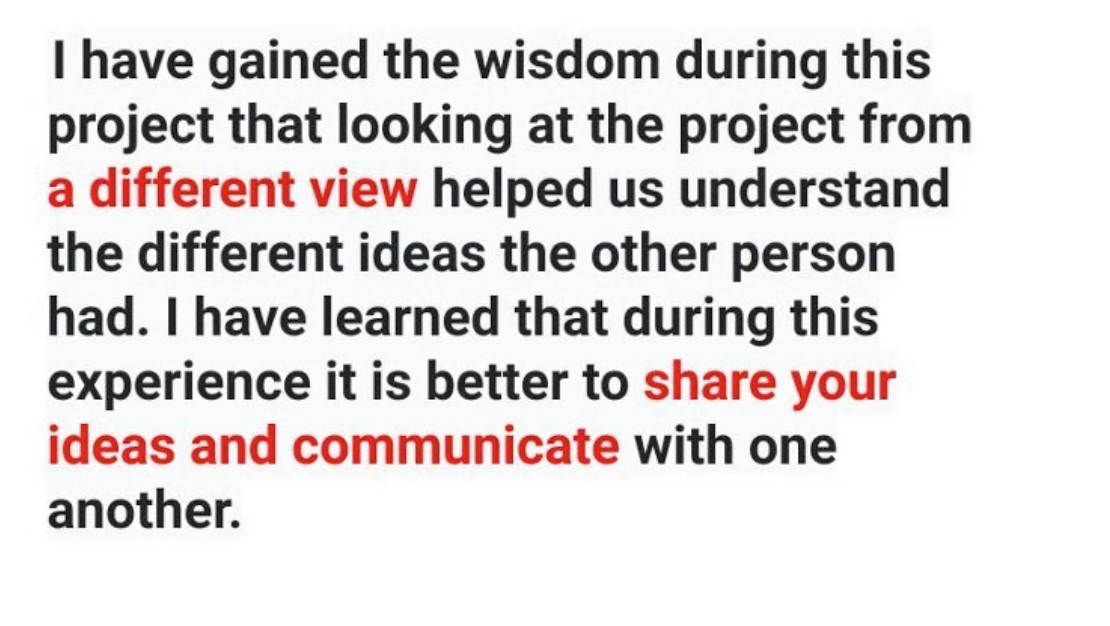 When it comes to reflection, Mrs. Henne is always looking to understand what students believe they can achieve, with the information and wisdom they have acquired through their projects.
Her best advice for educators looking to implement new projects? "Don't back down when people tell you're crazy for doing it. Especially online. Be organized and be prepared to answer questions because that is students learning to advocate for themselves."
You can check out Kathleen Henne's entire project video here:
Looking for opportunities to hack your curriculum? Drop us a line at: team@futuredesignschool.com to find out more about bringing our online or in person professional development to your school or district.